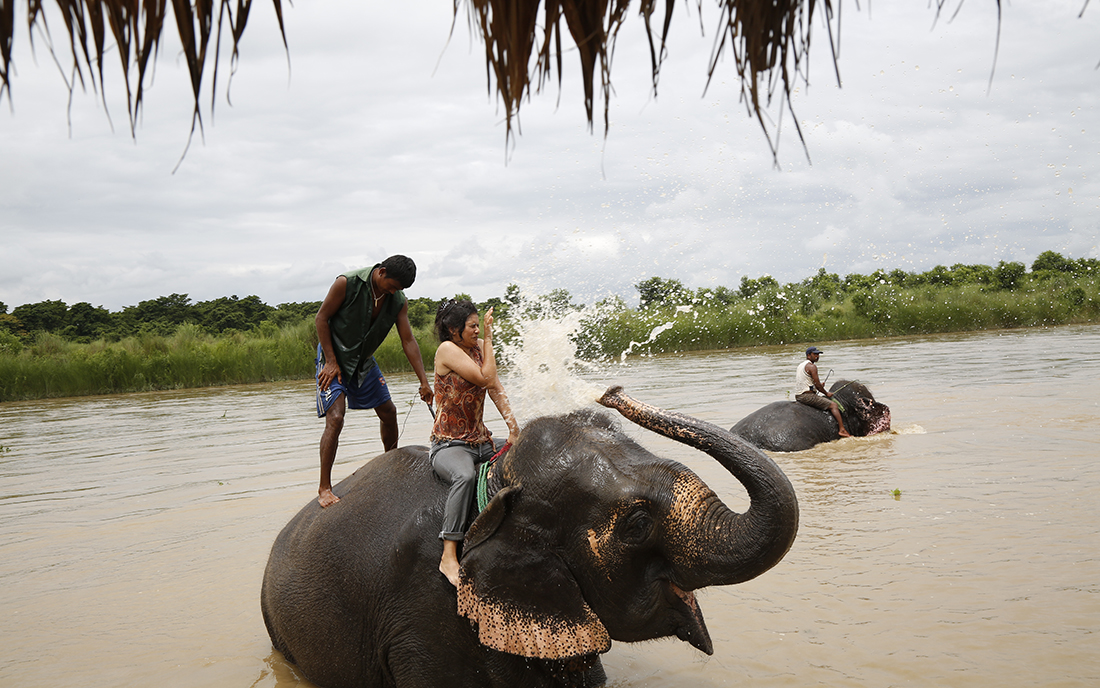 Chitwan
The lush jungles of Chitwan were once the royal hunting grounds of Nepali royalty. To protect the dwindling wildlife population, 932 sq km of dense jungle area was designated as the Royal Chitwan National Park in 1973. Home to several endangered species of flora and fauna, the park became a UNESCO World Heritage Site in 1984. Royal Bengal tiger, Asiatic One-Horned rhinoceros, four-antlered antelopes, clouded leopards, sloth bears, elephants, striped hyenas, spotted eagle, Bengal florican, oriental darter, starred tortoise, gharials, rock python etc are some of the wild residents of the national park.
An excursion around the Tharu villages gives one an insight into the unique culture of this ethnic group. Their way of life, language and traditions are very different from those of the hilly Nepalis or parbates.
Come December, the jungles of Chitwan resound with the trumpet call of elephants participating in lively international events like elephant polo and elephant race.
Activities around Chitwan:
1. Elephant Safari: Explore the thick jungle by riding on an elephant. The mahout will take you to the hideouts of the elusive Bengal Tiger and the one-horned rhino. Watch the river gharials sunning their scaly backs on the sandy banks of the rivers Rapti and Reu.
2. Jeep Safari: Travel deep into the forest and watch the wild inhabitants of the park in their natural habitat.
3. Jungle Walk: Take a walk on the wild side (accompanied by an experienced guide) and explore the hidden beauties of the tropical lush jungle.
4. Bird Watching Tour: The lush vegetation and marshland are nesting sites of some of the world's endangered species of birds. Armed with a pair of binoculars, take your position and watch the colourful winged creatures flitting about or roosting on a branch.
5. Canoeing: Sail through the calm Rapti or Reu rivers on wooden dugout canoes while enjoying the cool breeze and the jungle scenery.
6. Bathe–An-Elephant: Splash around and have fun in the Rapti river with a pachyderm, while helping the mahout to bathe the elephants.
7. Visit Elephant & Gharial Breeding Centres: Learn more about the elephants and gharial (a smaller, fish-eating version of an alligator) by visiting the elephant and gharial breeding centres.
8. Tharu Village Tour: Learn more about the tribals who have been living in jungles of Chitwan for centuries. A stroll through a Tharu village, on the periphery of the National Park, will give you an insight into their unique lifestyle and culture.
9. Cultural Program: Learn more about their culture through their lively songs and dances.